A Country Tale trod new turf for Brainwave, in that they used posh equipment and a really huge tripod.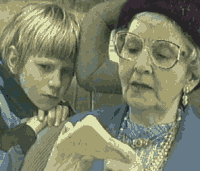 A boy and a lady.
The film delves into the psyche of a young boy and challenges the notion that his supposed lack of imagination is symptomatic of being raised on a stodgy diet of crass television and colour gameboys.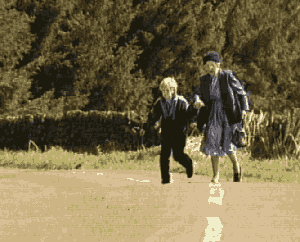 Crossing the road.
Or depending on where you're coming from, it's about a killer scarecrow coming to life and attacking women.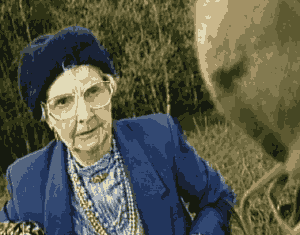 Joyce is annoyed.
Amongst the crew were the bike riding continuity girl Jenny and the rugged pyramid salesboy, David Backhouse. On the second day of the shoot, David wore his best denims in an attempt to entice Jenny to bed to become his naked lover. Sensing a potential clash of interests, Keith and Rob made David stand half a mile down the road to stop the traffic.
Of interest to followers of Brainwave's adventures is the fact that the location was visited by a reporter and photographer from the Stocksbridge Trader who wrote a piece about Keith for the following issue. Keith's grandad later bought the photographs from their display in the window of the Manchester Road offices. Check out one of the pictures here!