Nasty Dr. Morten V.R.
Fantastic visual effects and C.G.I. were sadly lacking from this popular Brainwave film.
Telling the tale of a bunch of friends who are magically transported to a V.R. world, it features an ensemble cast and interesting synthesizer score.
The plot seems to revolve around Debbie getting tied up a lot, which may account in some part for it's success.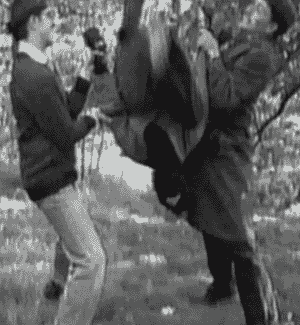 Ken Futami (Nagasaki Ninja 3) mid somersault!
As seen above, Brainwave are fearless in their execution of stunts. This incredible leap was performed by Rob with little or no encouragement.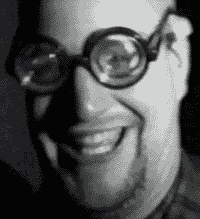 Keith, as the nasty Dr.
Dr Morten was edited over one night on a professional edit suite. Keith and Rob arrived promptly at 5.30pm just as the firm closed. They ate a wide variety of sweets and biscuits including Mars for energy and Trackers for health. Keith's drink of choice was lemonade. After a quick bite, it was time for a few bags of crisps. They were ready to begin the edit at 10pm. By around 6.30am they had finished, and scored the film with live music played on a casio vl tone by Rob.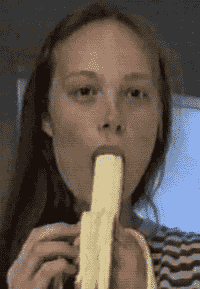 Jenny seductively eating some fruit.
This scene is particularly amusing as we play on the fact that a banana looks a bit like a man's nob.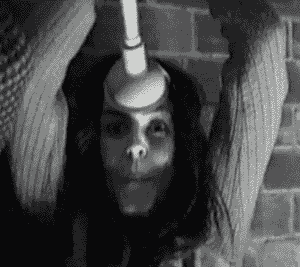 Kerry, tied up.
In order to attract a larger cast, actors were promised their very own close up as part of a patio party scene. The scene seems to go on for ages as we watch each actor in turn having a dance. The best dancer was Debbie and the worst was Steven Harper from Castleford or Barnsley or somewhere like that.
Jon Davis had very good rhythm. So much so that we were forced to wonder whether he had gone the same way as Richard Booker.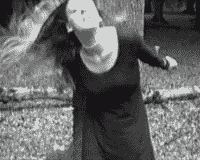 Debbie, tied up.
Paul's portrayal of a robot was very convincing indeed. He placed tin foil on his head and jerked his arms around a bit. Paul now gets his drug money by robotic dancing to Grandmaster Flash tapes in Long Eaton at dinner time.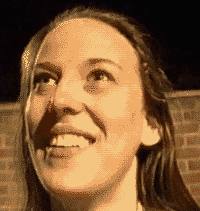 Debbie imagines seeing Rob nude.
Brian the zombie was played rather badly by Steven Harper. To create his zombified look, we sprayed his body with water and threw toilet rolls and flour at him. Steve had a massive collection of wank mags.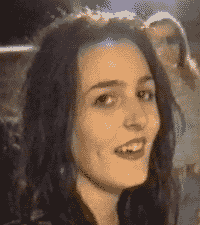 Kerry celebrates getting her masters degree.
To see how bad the film could have been, click here!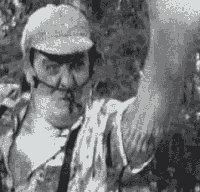 The Mute Monster.
A deerstalker, some hiking socks and a Hawaiian shirt transformed Andi into this horrific beast. The socks were placed over his hands to give the impression of a strange no-handed creature.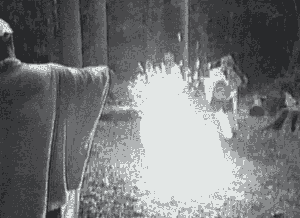 Paul blows something up.
Jay and Jon played two cannibals. They created a special language of their very own and wrote it down in jotters. Sometimes, when he's drunk, Jon speaks in this strange tongue in a feeble attempt to get laid. The ladies often mistake the language for Puerto Rican and imagine Jon having a mysterious dark side. Last time Jon got lucky was at Sheffiield's Brighton Beach night club. A buxom girl said he was 'lush' and took him home to ride him, whilst in the next room, Daz got a bj from her friend as he worked out a diet plan for her. For a clip of Jay and Jon in action, click here!